STEP 2 - THE STYLE

This part seems to be the most crucial part of all. With so many different styles to choose from, one is often left confused on which style will look best for the occasion. It is relevant to consider your priority at this time.

The following may be considered to narrow your preferences and make shopping a lot easier.

• Floral Prints/Accents
This gives your dress a more feminine touch into it. You may consider wearing a floral dress, maybe in print, miniature flowers or with a floral appliqué. E.g., 1007, c26077b, c8844, c2262, 13448, c26618, wb001, c2261a.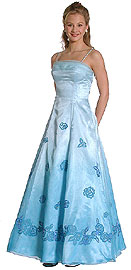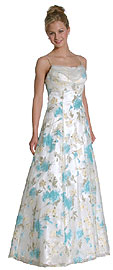 • Beadwork
Beadwork brings out the true elegance of a dress in any occasion depending on the amount of beadwork you prefer to perfectly match the event. E.g., c8850, c8844, 9214, c26721, c2279, 13332, c2200, c26658.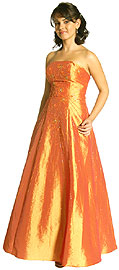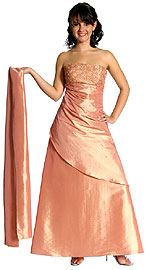 • Hemline / Ruffles / Material or Fabric
Asymmetric and ruffle designs are becoming more popular for they satisfy the fashion sense of most women today.

Fabrics that drape and add more shape to the body are mostly looked for in dresses. In ones effort to look sexier, be cautious not to get something too tight for it will make one appear chubby instead. Certain fabrics will definitely make a gorgeous creation depending on the style and requirement of the occasion. Poly chiffon and silk material which are lighter fabrics can add more flow to the stylish dress. These fabrics are highly recommended for events that require dancing perhaps, for they move with the body. Poly spandex material which is slightly stretchy and clings to the body is likely to add a curvaceous look. Poly satin and tulle material and widely used and popular materials for dresses.
Click on the Style/Material below to view those dresses:
Dresses with Ruffles - 13511, 22025, 13494, 13412, 13482
Satin Dresses - 13279, 17274, 13403, p116, 13248
Poly Chiffon Dresses - 1007, p227, p229
Silk Dresses 1021, 9214, 9240, d1002, d1016
Polyester Dresses 13302, 13459, p159